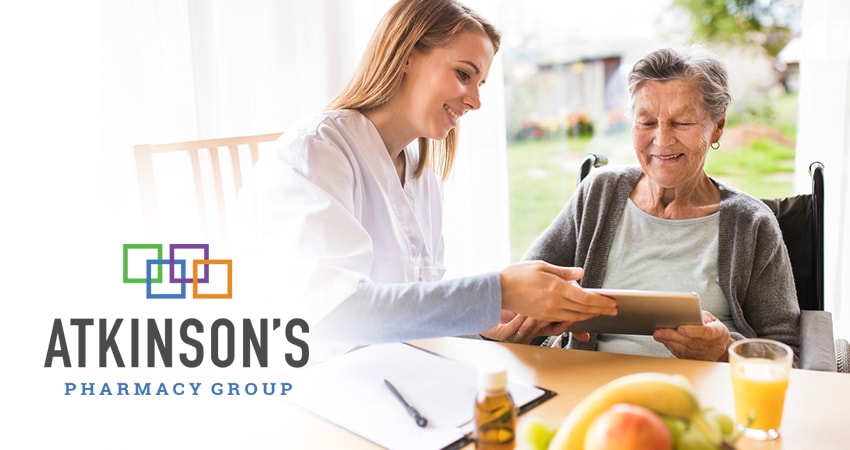 Pharmacy Services for Home Healthcare
When a person needs assistance in their everyday lives, it can leave caregivers and families feeling as though they're at a bit of a crossroads. All things being equal, most patients would prefer to remain in their home, so at least part of their routine can stay intact. It's why Atkinson's Pharmacy works with preferred home healthcare partners to help patients live their current lifestyle.
Providers Who Care
For Atkinson's Pharmacy, it's not enough to partner with people who are trained in home health care. While it's important for a provider to understand the technical requirements of their job, we're committed to finding partners who invest in those they care for. It's all part of bringing patients the highest quality of life, regardless of their condition. Caregivers can preserve the dignity of those they work with, and they can be the eyes and ears of the family or other medical professionals who can't devote the time to a patient who needs daily care.
A Customized Plan
From diet to medications to general preferences, one patient will have very different needs from another. Even people who are suffering from the exact same condition can have radically different treatment plans. To help with this, a part of Atkinson's Pharmacy's commitment to helping home health care, we offer a service called Medication Therapy Management (MTM).  The way it works is one of our pharmacists will work directly with the provider and share guidance on proper medication management for the individual patient.  This way patients will receive the proper medications to help them live a comfortable lifestyle.
Better Health Outcomes
Individuals living with chronic conditions in many cases can have better (or at least comparable) health outcomes if they use a home health care worker rather than living in a care facility. But with that said, there still are risks of medication adherence when someone is living at home. Statistically, only 25% to 30% of medications are taken properly, and that's why Atkinson's works closely with home health care providers to reduce medication mismanagement. With compliance packaging and the DailyMeds medication home delivery service, providers can now rest assure patients will receive their medications on time and be more likely to adhere to them.
A Full-Service Pharmacy
Atkinson's Pharmacy strives to be involved in all aspects of patient care. Not only does this give us more insight into a holistic approach — it also helps us understand our patients on a deeper level. We would never reduce a person to a condition or disorder, and we show it every way we know how. Assisting our Home Healthcare partners is just one way we bring our expertise to the medical community. Between our equipment, inventory, and connections, you can trust Atkinson's Pharmacy to deliver the best in healthcare solutions directly to you and your patients. Contact us today for more information or to discuss health care needs with one of our staff members.